Address: Calle Andalucía, 18 03016 Alicante
Phone: (+34) 965 262 585
Email: maestral@maestral.es
How to get:
Bus: nearest lines and stops
09 - 11 -23 -23 N
Parking: Nº of places: 90
Nº of places for people with disabilities: Consult
Access for people with reduced mobility: Yes
Access type: ramps
Located a few metres from the beach, in a stately house in the heart of Vistahermosa, the finest residential area of Alicante. Restaurant with a capacity for 90 people. Function room for banquets with a capacity for 250 people in winter and 350 people in spring and summer. Six private dining rooms for 10 to 30 people. Meeting rooms. Open every day of the week.
Mediterranean-style cuisine with fantasy, colour and delicacy, while remaining simple. A carefully selected wine list including wines of the best years and from the best regions of Spain.
Catering service. Organisation of events.
The Maestral Catering service enables you to transfer all the flavour of its unmistakeable Mediterranean cuisine to anywhere you please.
The secret of our success resides in a meticulous organisation adapted to the specific needs of each situation, together with an infrastructure which has been created to offer the highest quality catering services to any number of diners. Maestral Catering is based on a signature cuisine concept which uses flavours, colours and textures in miniature to often create works of art. To do so, it uses high quality produce; avant-garde creations with a completely handmade preparation.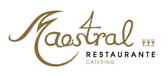 ROOM
Superf.
m2
Natural light
Banqueting
Cocktail
SALÓN
Sí
Sí
Sí
JARDÍN
Sí
Sí
Sí