Address: C/ Villegas, 3. Alicante 03001
Phone: (+34) 965 20 03 68
Emails:
How to get:
TRAM: Lines 1-2-3-4 Stop: Mercado
BUS: Lines C6- 2-3-4-6-9-21-22-23-24 Stopping Alfonso X El Sabio
Parking: Nearby Parking: In Avenida X El Sabio, Plaza Montañeta, Rambla Méndez Núñez
Access for people with reduced mobility: Ramps and lifts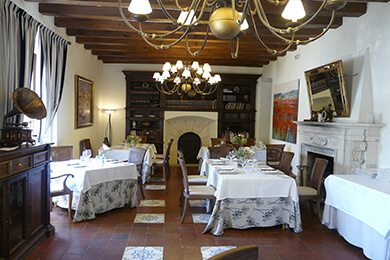 Camino de Benimagrell, 47, 03559 Alicante
Phone: (+34) 965 26 26 31
Parking:
Parking places: Yes. Places for adapted vehicles: Yes
Access for people with reduced mobility: Access ramps.
Torre de Reixes Restaurant
Located in an area that for centuries was a sea of vineyards, almond trees and fig trees, Torre de Reixes still has one barrel of the famous Fondillón wine, a jewel of winemaking worldwide, dating back to the 16th Century.
It offers a carefully-put together top-quality menu where you can enjoy Mediterranean flavours, aromas and surroundings. A country house steeped in history and legend. It is currently the largest restaurant in the city of Alicante, offering two indoor spaces with a capacity for 400 diners and two outdoor spaces with a maximum capacity for 800 diners.